Here at Lines & James we are committed to fundraising for good causes. These are some of the recent events that we have been involved in.
Sleepout for Centrepoint 2019
In November 2019 Pat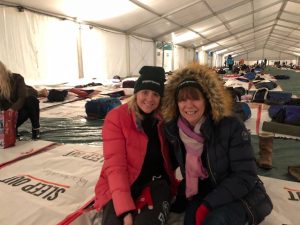 & Abie took part in Sleepout for Centrepoint to help raise money for homeless young people in the UK. Whilst it only loosely replicated rough sleeping and they were lucky to be sheltered from the pouring rain, the ground was still very hard and despite a vast number of layers, it was extremely cold. They are pleased to have raised nearly £2500 for this wonderful charity who are working to help young homeless people turn their lives around and have a future.
Macmillan Coffee Morning 2019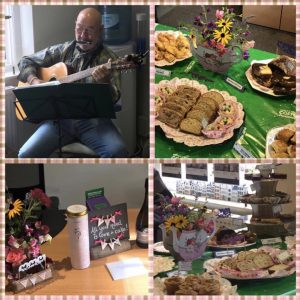 We took part in the Worlds Biggest Coffee Morning to help raise money for Macmillan Cancer Support. We had lots of games including Dunk the Biscuit in the Cuppa, How Many Berries in the Pie and our Star Baker Award up for grabs. Everyone enjoyed some live music from Jeff on his guitar and had lots of cakes and savoury treats whilst raising money for this amazing cause. Thank you to everyone who came along and helped us raise a total of £430.
London Marathon 2017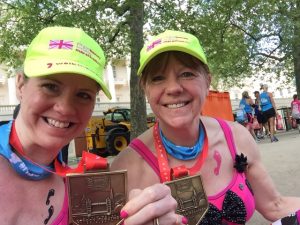 Pat & Abie took part in the London Marathon 2017 in aid of the Breast Cancer charity Walk the Walk. This is something that has always been on both of their bucket lists however property is their thing not running. In true Walk the Walk custom they ran the 26.2 miles in decorated bras to unite against Breast Cancer. The mother and daughter team completed the marathon together in a time of 5 hours and 37 minutes and raised over £7000 for this amazing charity.
Sport Relief Bake Off 2016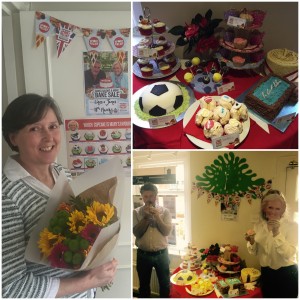 This year we decided to support Sport Relief with a bake off. The staff all baked a sport themed cake and we had two judges who became our Paul Hollywood & Mary Berry. They selected our accounts lady Jane's Lemon Dribble Cake as the winner and she received a bouquet of flowers. We were delighted with the response and made a total of £124 for this great cause.
Pat and Abie's China Challenge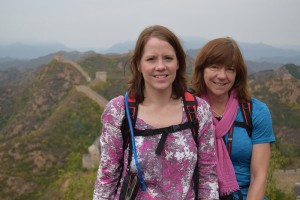 Thank you so much for everyone who supported Pat & Abie in the Chestnut China Challenge.  They returned without a single blister, full of achievement and memories from their amazing adventure. The pair are over the moon that their fundraising target of £6,000 for Chestnut Tree House has been exceeded especially as this incredible children's hospice relies on donations to keep its doors open.
Elephantastic!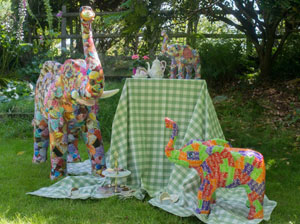 We were delighted to be a part of the great Elephantastic Charity Project for Horsham's local businesses, traders and organisations. We  acquired and decorated a small family for the children's trail that took place over the summer. Our chosen charity was Chestnut Tree House Children's Hospice and some of the children there decorated "Starburst", our middle sized elephant.
Moonwalk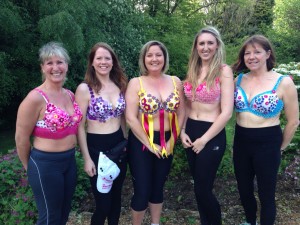 The team at Lines & James have always supported Breast Cancer charities and over the years have completed a number of Moonwalks for the cause. 2014 was the last one and the girls walked 13.5 miles in their bras through the damp streets of London on a very cold night!!!
Chestnut Tree House Charity Week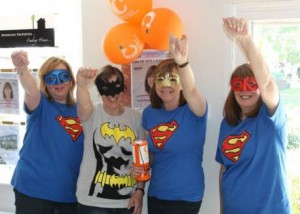 For three weeks in 2014  Lines & James raised money for Chestnut Tree House, the only children's hospice in Sussex that provides special care to sick children, offering them a home away from home for them and their families.  On Friday 25th May the girls in the office dressed as super heros for the day and got everyone they could coming into the office; tenants, landlords and contractors to play our 'pin the mask' game
Christmas
Each year, instead of sending Christmas cards to Landlords, Lines and James have donated money to Chestnut Tree House.  It's been a great success with donations of around £1,000 going to such a worthy cause.
Local Schools
We also support our local schools by offering places for Work Experience to the local secondary Schools.  The students have a great time here and we have some lovely thank you cards saying things like "you are all really nice" and "I've had a great and fun time".
Friday is Dress down Day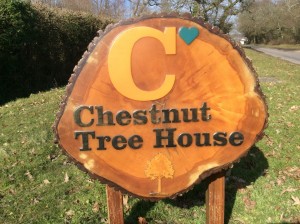 At Lines and James we can all wear our jeans on a Friday for the small donation of £1. All the money that we raise goes to the Chestnut Tree House Children's Hospice.